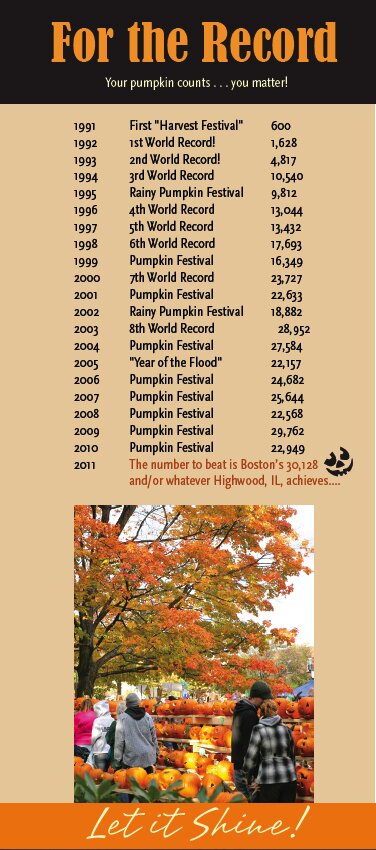 Your pumpkin counts!

In its 24th year, with its magical pumpkin tower, the Keene Pumpkin Festival is the gold standard in community events. In 2011, a city in Illinois copied us and unofficially topped the world record. HGTV heard about the dual festivals dueling and created a Halloween special called "Pumpkin Wars" starring the popular Property Brothers Jonathan and Drew Scott. On October 20, 2012, Jonathan went to Highwood, Illinois, and Drew came to Keene to meet people, carve pumpkins and spur us on. We were up to our necks in a TV battle of jack-o-lanterns! More about Keene winning "Pumpkin Wars."
HGTV Property Brothers "Pumpkin Wars"
There were other exciting things introduced in 2012: A 45-foot ferris wheel, a Haunted Alley, a Basketball Alley on Eagle Court, and a 1-mile race past the Pumpkin Tower at 8:30am. Pumpkin bowling returned for its second year. And the Costume Parade was featured in many YouTube videos.
Seven welcome centers now make pumpkin log-in easier than ever. If everyone brings one or more pumpkins, we will top the 32,000 jack-o'-lantern world record. Bring it home!
2012 Pumpkin Tally
2011 Pumpkin Numbers
Our thanks to everyone for bringing their carved pumpkins—all are listed below. And to everyone who didn't bring his/her pumpkin... come on people! One pumpkin per person... just do it. DON'T COME TO KEENE WITHOUT YOUR PUMPKIN. Check out this very impressive list: Australia 4, AZ 15, Brazil 1, CA 22, China 1, CO 6, CT 552, DE 2, FL 9, GA 3, IL 1, Italy 2, Jamaica 1, Kenya 1, KS 1, KY 2, LA 1, MA 753, MD 18, ME 66, MI 16, MO 1, NC 14, ND 1, NH 14009, NJ 68, NM 6, NV 9, NY 253, OH 5, OK 2, Ontario 10, PA 63, Quebec 2, RI 102, SC 1, TX 5, United Kingdom 1, VA 4, VT 128, WA 6, WI 8, WV 1. Grand Total 16,186 lit jack-o'-lanterns.