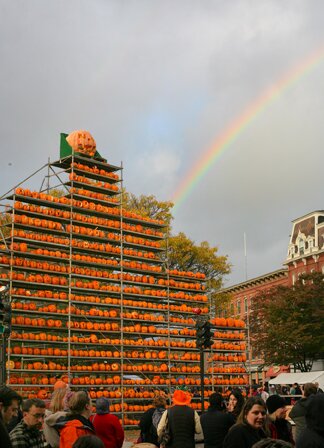 Mickey Pullen Photo
Photographs and Memories
Superb photos from 2012, high res downloads free with photo credit to Mickey Pullen
2012 festival and favorites from other years
Al Braden Photgraphy: Images of Keene's Pumpkin Festival by longtime area resident Al Braden, now living in Texas.
Mickey Pullen Pictures exquisitely capture the unique character of the 2010 Pumpkin Festival.

Poster to Download The Keene Pumpkin Festival logo artwork, suitable for framing.

Let it Shine!
Unforgettable images of Pumpkin Fest plus our original Let it Shine anthem features memorable comments from the original 4,000+ member Facebook page, "Help! Don't ever cancel the Keene Pumpkinfest." Yes, it was Facebook that started the spark that saved Keene Pumpkin Festival.
2013 Festival PRESS
NH's largest newspaper's Report