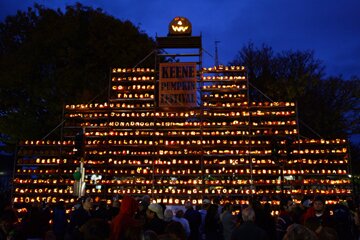 Darryl Byrne Photo 2011
Weekend Parking
Available at 60 Foundry Street
$50 per car
Vehicles must arrive between
5:30pm and 9pm Friday
and must depart by 7pm Sunday.
Vehicles may not leave and return on
Friday or Saturday.
On a space available basis,
Saturday overnight parking
will be offered for
$25 per car
No Alcohol, littering or loitering.
Click to see enlarged version
Visitors Welcome!
Visitor Information is available from
Greater Keene Chamber of Commerce
Tour Bus Alert
Attention tour bus companies: Parking and drop off are at Cheshire Fairgrounds. Directions. The fee per bus is $50. From Cheshire Fairgrounds, your passengers will board the Keene Pumpkin Festival buses (Red Route) for a short shuttle trip to the festival. Due to traffic and the bus shuttle routes, this is the only approved dropoff! Thank you.
RV Camping
RV campers are welcome at the Cheshire Fairgrounds which is one of the festival bus stops. RV site reservations: Phone . RV camping here benefits the Cheshire Fair Assoc.
Parking
Bus service 11:30am-10pm. See map on the left.
ORANGE ROUTE. From North/West: Peerless on Maple Ave.
GREEN ROUTE: From East/West: Optical Ave.: 1) Markem-Imaje 2) Timken 3) C&S
RED ROUTE: From South: Cheshire Fairgrounds.
Parking is conveniently offered just outside of Keene with a 5-minute shuttle ride provided free to festival-goers. There is a $15 per car fee for parking which includes the shuttle. This fee is divided between the non-profit organization hosting the lot and the Pumpkin Festival organization . . . so your fee goes to a good cause either way! Approaching Keene from any direction you will see large highway signs pointing you to parking.
By using the satellite lots and shuttle service, you help us keep the downtown area safe and clear for all city services. For this we thank you in advance.
Handicapped Parking: Former Keene Middle School, Washington Street (No fee) map.
Handicapped Van Parking: Winter Street off Court Street (No fee) map.
Handicapped Parking: Off West Street in the National Grange Mutual Lot, there are marked handicapped spaces.
Wheelchair shuttle service is also available from each satellite lot by having the attendant page the First Student headquarters. Expected wait less than 20 minutes.
Handicapped Parking
You will be directed to handicapped parking on Washington Street or to van parking on Winter Street, just off Court Street. These are both marked on the event map. In addition, wheelchair accessible transport from the satellite parking areas is available, arranged through the parking attendants onsite with a very short wait time.

Dogs Not Welcome Because We Love Dogs
Due to the large amount of people, dogs are not comfortable or safe at the festival and are not allowed with the exception of service animals. However, if you are coming from out of town with a dog, before you visit downtown, consider a romp at Robin Hood Park just east of town where there are great trails and open spaces. Most area hotels are happy to help accommodate dogs.