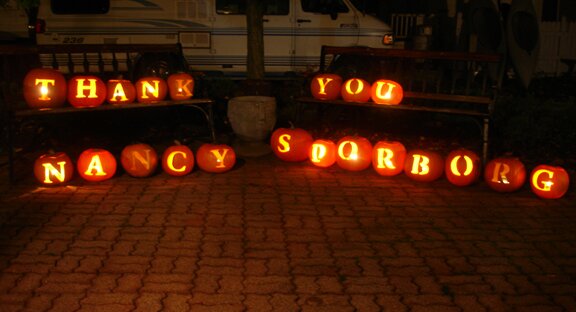 Thank you Volunteers, Donors & Sponsors

Experience the Magic of the Pumpkin Festival!
Do you want to feel awe-struck as you gaze at towers shimmering with hundreds of jack-o'-lanterns, be touched by the personal messages and artistic renderings carved in orange gourds? Do you want to be part of the World Record for the most lit jack-o'-lanterns? This is your chance! Here's all you have to do…
First: Please consider making a donation to the event, now.
The City of Keene is committed to keeping the Pumpkin Festival FREE but we know you think it's priceless! Your donation in advance of $20, $50, $100 or any amount will go a long way in keeping this event alive for your children and your children's children. This year you will also be invited to contribute $5 per adult at the Festival.

Your donation is tax-deductible!
Second: Carve a pumpkin. The magic of the festival is in your participation. If everyone who comes to the event brings a carved pumpkin, we will set an unbeatable world record!
Third: Bring your pumpkin creation to downtown Keene on Saturday, October 18 and revel in the magic you help create.
Community spirit, awe, connection with thousands of others all trying to break a world record together… it doesn't get any better than this!
Jack is BACK!