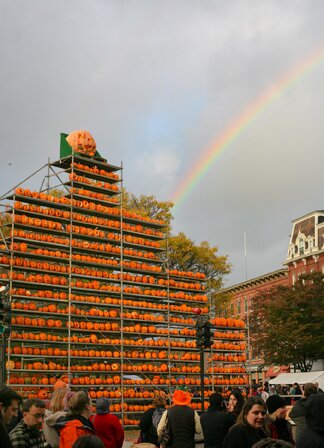 Mickey Pullen Photo
Statement of Purpose
The Pumpkin Festival is
a community-hosted, family-friendly
celebration of fall
and of what is unique about Keene
and the Monadnock region.
It is also a celebration of
artistry and creativity and
a demonstration of
our area's commitment to
non-profit efforts to serve
those in need.
Let it Shine, Inc.
2012 Pumpkin Dump Derby $prizes
HGTV Property Brothers "Pumpkin Wars"
About us

The Keene Pumpkin Festival was saved from extinction in 2010 by a new non-profit organization named Let it Shine, Inc., formed for one purpose: to continue the magical pumpkin tradition. Let it Shine was incorporated in February of 2011 and was notified of its 501(c)(3) non-profit status in a letter dated October 31, 2011... yes, Halloween!
A key member of the P-fest Action Team is John Hayes, a lawyer with experience with the state of NH--he brings legal knowledge as well as familiarity with our city and state departments to our team.
The festival's management team, STERLING Design & Communications, organizes events, creates communications programs, and designs public relations programs. Owner Ruth Sterling worked on the original festivals 20 years ago. The festival's creator, visionary Nancy Sporborg, works with STERLING Design & Communications as a writer/creative consultant.
The festival is the product of hundreds of hours of volunteer labor as well as the efforts of professional event staff. No cause could be any more rewarding. If you have a skill, talent or interest, or just love the festival like we do, consider getting involved.

Ready to sign up to help?


Board of Directors
President: Lisa Edwards
Sec/Treasurer: John Hayes, Attorney
Alex Bates
Ted McGreer
Ken Hathaway
Luca Paris
Angela Criswell
Mike Haines, director emeritus

Management Team
STERLING Design & Communications
Ruth Sterling, MBA, principal

Action Team
All of the above plus
Henry Moore
Jessica Gagne Cloutier, KSC
Original Advisory Team
Harry Boynton, SWNH Fire Mutual Aid
Tim Maguire, Ski Mgmt.
Dr. Charles F. Post
Dr. Anna Elissa Zengel
Daniel V. Scully, Architect
Nancy Sporborg, Festival Creator
Roger Weinreich, Good Fortune
Ted McGreer, Ted's Shoe & Sport
Mike Blaisdell, Geiger Brothers
Jim Hogancamp, CPA
Art Nichols, CMC/DHK
Don Arguin, Markem-Imaje
Denise Meadows, Monadnock Travel Council
Susan Farrell, Kiwanis